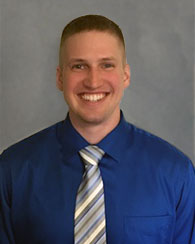 Atkinson, NE — West Holt Medical Services is pleased to announce the addition of Jon Gotschall, PA-C to their team of healthcare providers.
Gotschall comes to West Holt Medical Services from Sunny Meadows Medical Clinic in Norfolk, Nebraska where he has been providing primary care and urgent care services, treating a broad range of conditions since 2016.
In his new role at West Holt Medical Services, Gotschall will provide complete family healthcare for newborn through adult, including pediatric, adolescent and geriatric patients in the primary care clinic as well as taking emergency call at the hospital.
Gotschall is a member of the American Academy of Family Physicians. He earned his Master's degree in Physician Studies in 2016 from Des Moines University in Iowa. He also holds a bachelor's degree in Exercise Science and minor in Health Science from the University of Nebraska in Kearney, Nebraska.
Jon and his wife Cary plan to move to Atkinson with their three children, Allie (4), Jackson (19 months) and Olivia (3 months). The family looks forward to spending time with their families, hunting, golfing and getting involved in the community.
"I am excited to return to my hometown and serve the people I grew up with by helping them with their healthcare needs," shared Gotschall.
Gotschall's first day at West Holt Medical Services is scheduled for August 20. He will begin seeing patients shortly after. To schedule an appointment with Physician Assistant Jon Gotschall, call (402) 925-2811. For more information, visit www.westholtmed.org.