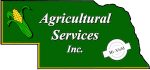 Description
The staff of the Emmet facility are dedicated to the highest standard of crop care possible. Since 1987, helping customers reach their yield goals has been our first priority.
Products:
Dry & Liquid Fertilizers Crop Protection Products
Anhydrous Ammonia
Services:
Grid Sampling VRT Fertilizer Applications
VRT Lime Applications
Field Scouting Services
Field Planning by "Field Tracker"