Business Information and Resources Related to Coronavirus
Please call us at (402) 336-1504 with any questions you may have about your business and/or employees during this time of uncertainty. You can also check out the following information and resources for businesses related to coronavirus (COVID-19):
COVID-19 Resources for Employers
FAMILIES FIRST CORONAVIRUS RESPONSE ACT
The Families First Coronavirus Response Act provides eligible employees with paid sick leave due to certain circumstances or extended family and medical leave due to having to stay home with school age children because of a school or childcare provider closure. Click on the Employee Rights poster (pdf) and the Families First Coronavirus Response Act: Employee Paid Leave Rights Document (pdf) below for more information.
                             

BUSINESS RESILIENCY RESOURCES: What can the Nebraska Business Development Center help with?
Help small businesses rethink their operations so they can try to adapt to the current environment
Conduct a cash flow analysis and advise owners on how to preserve cash during this crisis
Provide assistance with disaster loan applications
To request services, please visit our staff directory to contact a consultant or call 402.554.NBDC (6232) and leave a message.
Nebraska DED sites and resources to inform and assist businesses during Nebraska's ongoing response to Coronavirus (COVID-19).
Coronavirus (COVID-19): Small Business Guidance and Loan Resources
All of Nebraska small businesses economically impacted by Coronavirus (COVID-19) are eligible to apply for disaster assistance through the U.S. Small Business Administration. Applicants may apply online, receive additional disaster assistance information and download applications at https://disasterloan.sba.gov/ela. Applicants may also call SBA's Customer Service Center at (800) 659-2955 or email disastercustomerservice@sba.gov for more information on SBA disaster assistance. Individuals who are deaf or hard‑of‑hearing may call (800) 877-8339. Completed applications should be mailed to U.S. Small Business Administration, Processing and Disbursement Center, 14925 Kingsport Road, Fort Worth, TX  76155. The deadline to apply for an Economic Injury Disaster Loan is Dec. 21, 2020.
For more information about Coronavirus, please visit: Coronavirus.gov. For more information about available SBA resources and services, please visit: SBA.gov/coronavirus.
U.S. Small Business Administration Fact Sheet – Economic Injury Disaster Loans (pdf)
SBA Disaster Assistance in Response to the Coronavirus (pdf)
Coronavirus toolkit for chambers, business, and industry and other informational resources.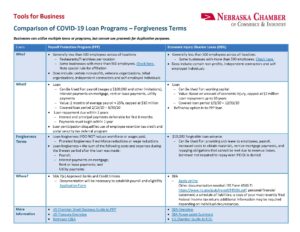 Click on the image below for more information about Coronavirus Emergency Loans and programs for small businesses such as the Payroll Protection Program. The Payroll Protection Program will offer eligible small businesses 100% federally guaranteed loans to help pay employees.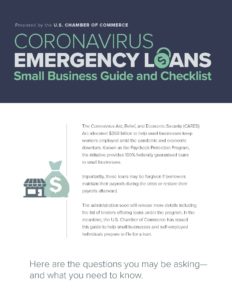 Use this toolkit from the U.S. Chamber of Commerce to help your business spread the word about Coronavirus (COVID-19) on your social media, websites, and other channels.
The Short-Time Compensation program helps prevent layoffs by allowing employers to uniformly reduce affected employees' hours by 10 to 60 percent while permitting the employees to receive a prorated unemployment benefit.
Additional resources, information, press releases, and FAQ provided by the Nebraska Department of Labor.
Business Listings
If you are a Holt County business, we will list your business for FREE on our Businesses page. Email info@growholt.com or call us at (402) 336-1504 if you would like to add or update your business's information.
Job Postings
Are you hiring? Holt County businesses can post their job openings for free on www.growholt.com. Set up an account here and start posting. Let us know if you need assistance setting up an account.
Business Plan Assistance
Download the Business Plan Guide and the Business Plan Template to help you start your business. Need help getting started? We offer in house business plan assistance and resources.
Location Listings
Use www.growholt.com to list your land, building, or business for sale. Starting a new business? Moving a business to Holt County? Let us help you find the perfect location for your business!
Trainings & Workshops
We offer trainings and workshops throughout the year for small businesses and entrepreneurs. Follow us on Social Media and join our email list to keep up to date on trainings and workshops coming up.