Cast Iron Bar & Grille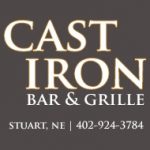 Business Name:
Cast Iron Bar & Grille
Description:
Cast Iron Bar & Grille is a Nebraska based company. It is a single unit, medium sized, casual dining restaurant serving burgers, salads, sandwiches, steaks, ribs, seafood and chicken. The restaurant will be located in Stuart, Nebraska along U.S. highway 20. Previously the restaurant was known as Stracke's Sports Lounge & Grille. The Cast Iron Bar & Grille menu is moderate sized and moderate-low priced offering a collection American items with a common theme — flavorful, and familiar. Our goal is to create the image of satisfying and home-style food.