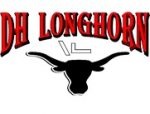 Description
DH Longhorn is a family owned and operated business. We are 4th generation descendants of ranchers on family owned land. Started many years ago by Pete Linquist and his son Nels, the family acquired land and bought a herd of cattle. Nels' son Don Linquist and his wife Charlotte, along with their two children: Don Jr and wife Rachel and Terri Barger and husband Dave, have carried on the family tradition, and are now raising Texas Longhorn Cattle. DH Longhorn believes in quality meat. No hormones and antibiotics are administered ONLY when necessary. Our records will always be available to our customers. We want to provide the quality of beef that we get here in Nebraska to others who are interested in eating healthier. 
Our cattle are grass fed vs grain fed. Grass-fed beef is simply this: cows that eat only grass, forage, and hay. The difference between grass fed and grain finished cattle are that grass fed do not finish their lives in a feedlot. A feedlot cow will finish out the last few months of their lives living on corn and grains, supplements, hormones, and antibiotics. The end result is a growth spurt of sorts, which equals more weight on the cow for processing. This speeds up the time you would normally wait for your beef by about a year. This cuts cost and boosts fat levels, which are far higher in grain fed cattle than in grass-fed cattle.
Grass-fed beef cooks about 30 percent faster than grain fed beef because it is low in fat and higher in protein. This is one of the many reasons we chose to raise longhorn cattle- it has fewer calories, fat, and cholesterol than even chicken and turkey.
We are selling whole, half, and quarter longhorn beef @ $5.50/lb. Prices are subject to availability.
DH Longhorn is registered with the Texas Longhorn Breeders Association of America.