Kaup's Financial Advisors, Inc.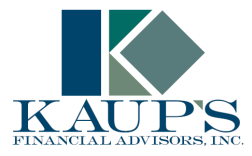 Business Name:
Kaup's Financial Advisors, Inc.
Description:
Investments ~ Income Tax ~ Insurance
Kaup's Financial Advisors is enjoying their 35th year in business in Stuart, and currently has 12 employees specializing in agriculture tax and estate planning strategies, investments and all lines of insurance. They provide tax planning as well as tax preparation, and have prepared more than 1000 tax returns. Founder Scott Kaup, CFP is a CERTIFIED FINANCIAL PLANNER.
The team at Kaup's Financial Advisors focuses on helping our clients simplify their financial life by putting all the pieces together. We are dedicated to developing a trusted relationship with you to create and implement a strategic plan that helps to avoid critical gaps and tax inefficiencies. Our "bucket" approach takes into consideration your investment time horizon, volatility tolerance, income needs and tax qualifications, so we can structure your money for your now, soon, and later years. We coordinate your investments, insurance, tax, legal, Social Security, and Medicare all into one congruent plan.
Kaup's Financial Advisors, Inc. is an independent firm with securities offered through Summit Brokerage Services, Inc., member FINRA/SIPC. Advisory services offered through Summit Financial Group, Inc., a registered investment adviser.
Your Dreams ~ Your Life ~ Our Commitment