June 22, 2017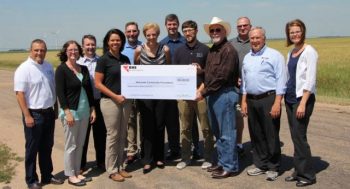 O'Neill, Stuart, Atkinson and Chambers Communities as well as Holt County Economic Development Foundations receive check from BHE Renewables (left to right) Jon Schmaderer, Dr. Jonna Kohle, Jay Wallinger, Alicia Knapp, Jim Brennan, Jan Krotter Chvla, Darby Paxton, Joel Steinhauser, Don Claussen, Darrel Dexter, Steve Brewster & Nicky Cadwallader
Alicia Knapp with BHE Renewables and also the project manager for the Grande Prairie Wind Farm, and Don Claussen, the Wind Site Manager at Grande Prairie Wind Farm, which is located northeast of O'Neill, presented a check to Nebraska Community Foundation that will benefit Community Foundations in O'Neill, Stuart, Atkinson, Chambers Community Funds and Holt County Economic Development Fund. The presentation was made at the BHE Renewables office site northeast of O'Neill.
In her presentation Knapp said that "this is part of fulfilling the projects commitment to the communities." Knapp went on to say that "we committed to donate $80,000 a year to Grande Prairie Community Funds, and for the next 5 years these five organizations will benefit from these donations" and that they are "excited to see how the funds will play out in the local communities."
Grande Prairie is the largest wind farm in Nebraska. In addition to providing clean energy to Nebraska homes and businesses, BHE Renewables has 25 permanent full-time employees at their location northeast of O'Neill and they provide additional revenues through land owner payments and tax revenues that go to the county.
Darby Paxton on behalf of Holt County Economic Development said, "We give a heartfelt thanks to BHE Renewables for their generous gift. It's been a pleasure working with Alicia on this project." Paxton thanked BHE Renewables for bringing 25 new jobs to Holt County and helping to grow our economy. Paxton said, "We look forward to working with BHE Renewables in the future."
Joel Steinhauser, who represented O'Neill Community Foundation, said, "We are thankful for the generous donation and are excited to see this money trickle through our community for the next 5 years." Steinhauser also added that "this money will always stay in O'Neill and be able to be granted out every single year to projects in our community, and locally we will be able to see what projects are important and will be able to give to those projects."
Steve Brewster, representing Stuart and also the Board of Directors of Nebraska Community Foundation, talked on behalf of both organizations and thanked BHE Renewables for "believing in our communities and sharing our philosophy that the people who live in our small towns are the best ones to know what we need." Stuart will put this into an endowment for generations to come to benefit.
Darrel Dexter, on behalf of Chambers, told those in attendance that the Chambers Foundation will put this money to good use and thanked BHE Renewables for the generous donation.
Nicky Cadwallader with the Atkinson Community Foundation stated that this is such an exciting opportunity for what this can do for our community and that the funds were greatly appreciated.
In closing, Alicia Knapp said that "along with the 5 year commitment, there are also matching gifts that will make this go further. This donation will result in a half a million dollars going into the local communities." Knapp ended with, "We believe in what you folks are doing. You're involved in the local communities and we look forward in seeing you put these funds to work."
Grande Prairie is the largest wind farm in Nebraska. In addition to providing clean, affordable energy to homes, businesses and communities, the project provides approximately 25 permanent full-time jobs as well as revenue for landowners and tax revenue for the communities within Holt County. To learn more about Grande Prairie, view the video available at: https://www.youtube.com/watch?v=zi0wsEZ71Rs&feature=youtu.be.
About BHE Renewables
BHE Renewables is a wholly owned subsidiary of Berkshire Hathaway Energy and is headquartered in Des Moines, Iowa. Since 2012, BHE Renewables has invested extensively in solar, wind, geothermal and hydro projects. As a long-term owner of assets, the company's wind projects include the 300-megawatt Jumbo Road project near Hereford, Texas; 168-megawatt Pinyon Pines I and 132-megawatt Pinyon Pines II projects, located near Tehachapi, California; 81-megawatt Bishop Hill II project in Henry County, Illinois; 400-megawatt Grande Prairie project in Holt County, Nebraska; 72-megawatt Marshall project in Marshall County, Kansas; and 212-megawatt Walnut Ridge project in Bureau County, Illinois, which is still in development. More information is available at www.bherenewables.com.