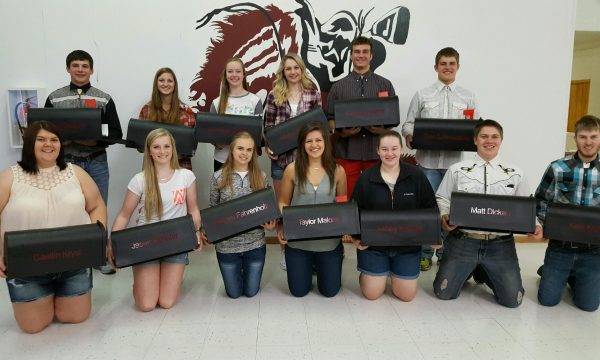 Rural Nebraska students often have the perception that a successful career happens in a city. Some leave their small towns after high school graduation with little thought of ever returning.
But these students who grow up in small Nebraska towns are key to retaining and growing rural populations by filling workplaces with qualified employees and schools with future students.
"Sometimes in rural Nebraska, it's hard to attract people who have never been in the rural area," said Darby Paxton, executive director of the Holt County Economic Development in O'Neill. "I guess that's why we try to focus on bringing people back and growing our population that way."
Darby is one of those rural Nebraskans who returned. He earned a degree in computer programming and worked in Norfolk, Kearney and Omaha before returning to his hometown of Stuart in Holt County to work and raise his family, which now includes five sons.
"The weekend I got married is the weekend I moved back to Stuart," he said.
His wife is a pharmacist, and Darby spent 10 years as a stay-at-home dad. He joined the team at the Holt County Economic Development a year and a half ago and now helps educate local students about future opportunities in Holt County.
Holt County has gained recognition for its unique mailbox program. Each spring, the HCED staff visits seniors in the county's six high schools and gives them an odd but meaningful gift – a mailbox.
"The mailbox is a symbol of home."
"The mailbox is a symbol of home," Darby said. "I lived in the country growing up, and you stopped at the mailbox every night. It reminds you of home."
The HCED staff visits the senior classes at each school to deliver the personalized mailboxes, which contain a letter that congratulates them on graduating and reminds them that they are always welcome to come back home. Local businesses donate other items or send messages to show the students they are welcomed and valued.
"We give them a little talk," Darby said. "We tell them that we are excited for them to go off in the world, but when they are starting their lives and starting businesses that we would love for them to come back and be part of the community that helped raise them."
Darby said when he started working at the HCED, he questioned the mailbox program and whether it should continue. His research overwhelmingly concluded that the mailboxes should stay.
"Past seniors who have been given these said it means something to them," Darby said. "They kept it their entire time through college."
Some students used the mailboxes to store mail in their dorm rooms. Others used it as a decoration. And some proudly posted their mailboxes in their own yard when they moved back home to Holt County.
The mailbox program started in 2008 as the population of Holt County was reaching its lowest points. That program along with other community initiatives, such as the Hometown Leadership Program that educates new and long-time residents about resources in the county, are making an impact.
The population has started to grow again – not by leaps and bounds – but it's not declining any more. According to a July 2017 World-Herald article, Avera St. Anthony's Hospital in O'Neill was on track to deliver a record number of babies for the second year in a row.
And, Darby said he thinks the definition of success is changing among younger students.
"I really feel like happiness is their success," he said. "If they can come back and do what they want or love, then they are successful."
Valley County Flash-Drive Presentation
The Valley County Economic Development office has also seen the benefits of encouraging students to come back home.
Kristina Foth, Assistant Director for the Ord Area Chamber of Commerce and Valley County Economic Development, said they have offered the "I Love Valley County Flash Drive Presentation" since 2012 to the county's high school seniors.
"We've been intentional about making connections with current students," Kristina said. "We've seen an influx in alumni of all ages returning to the area, everything from right out college to alumni who have young families."
Between 48 and 69 students graduate each year from the two public high schools in Ord and Arcadia. Each student receives a flash drive loaded with resources and information to remind students that they are always welcome to return home. An "I Love Valley County" video and the "Valley County A Place to Grow" video produced in partnership with the Nebraska Community Foundation are included on the flash drive in addition to testimonials from alumni who have established careers or businesses in the county.
"It's an all-inclusive summary of our community and why we would want them come back," Kristina said. "We want them to know that there are opportunities right here and that they can fulfill everything they want in life right here in Valley County."
While visiting with seniors, the VCED staff also gathers information about students' future plans and collects contact information. They ask the seniors if they could see themselves returning to Valley County in the future. In the past five years, an average of 54 percent of Valley County graduates indicated an interest in returning.
The flash-drive presentation isn't the only community effort to retain students. The VCED also organizes a Business Discovery Day for high school students, entrepreneurship classes through the local extension office for children as young as fifth grade and the School-To-Work program with Ord High School that matches students with local businesses in their area of interest.
"We have very close relationships with our teachers and administrators as well as with the business community," Kristina said. "We don't just do this once a year. We are constantly building relationships with our students throughout the entire year and at various age levels."
Kristina is a graduate of Valley County and enjoyed interning during her summers in college with the Ord County Chamber of Commerce. That eventually led to her current career, a position she started in 2012 after her graduation from the University of Nebraska-Lincoln.
"I'm just the type of person who enjoys the rural lifestyle," Kristina said. "I don't want to sit in rush hour traffic every day to commute to and from work. I want my children to grow up in a community where they will be just as loved and supported as I was."
Phelps County High-Demand Scholarships
The Phelps County Economic Development Corporation offers scholarships to its local students who promise to return to the county after obtaining higher education to fill high-demand jobs.
Since 2014, the county has awarded 40 scholarships to students ranging from $1,000-$6,000 annually. The scholarships are awarded to students studying to work in high-demand careers in the county, such as nursing, agri-business and technology, diesel mechanics, engineer technologists, mechatronics engineers, injection mold technicians, electro-mechanical technologists, machinists, tool and die makers, construction trades, welders and commercial truck drivers.
Several scholarship winners have already returned to the county, purchased homes and are gainfully employed as an electrical lineman, an electrician, an agronomy salesman, nurses, car and farm equipment mechanics and farmers.
The scholarships are funded through LB840 sales tax funds, private donors and a matching grant from the Phelps County Community Foundation.
"PCDC's ultimate goal is to retain talent and invest in a capable and qualified work force for the future of employers in Phelps County," said Carley Bruning, PCDC's Director of Business Services.
Other efforts in the community are also aimed at retaining students. The Holdrege Area Chamber of Commerce plans a sophomore career day to expose students to local career options and employers, and the chamber and local extension staff partner to offer a youth leadership program that also connects students with local business leaders and encourages returning home for future careers.
Carley, who grew up in a rural community close to Phelps County, said she used to believe that moving back home would mean she wasn't successful. But, she has found opportunities to work, socialize and be involved in Holdrege, and she wants high school students to realize that success and happiness can be found right in their hometowns.
"A lot of times students think they have to move back home as a last resort," Carley said. "But, there are a lot of businesses that have jobs available here all the time. I want high schoolers to know that we can be one of your top options."
For More Information:
Holt County Economic Development
Darby Paxton, Executive Director
darby@growholt.com
(402) 336-1504
www.holtcountynebraska.com
Valley County Economic Development/Ord Area Chamber of Commerce
Kristina Foth, Assistant Director
kristinafoth@ordnebraska.com
(308) 728-7875
www.OrdNebraska.com
Phelps County Development Corporation
Carley Bruning, Director of Business Services
(308) 995-4148
carley@phelpscountyne.com
www.phelpscountyne.com