From Omaha World Herald
By Matthew Hansen / World-Herald columnist
ATKINSON, Neb. — (July 7, 2017) – The disco reindeer is what got me.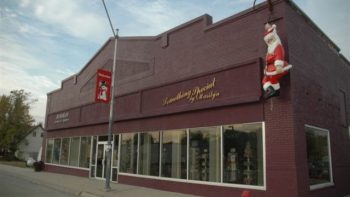 I had previously been on the fence about Something Special by Marilyn, the only store in Nebraska featuring two floors and roughly 4,500 square feet of small-town retail space jam-packed with Christmas trees, Christmas ornaments, Christmas villages, Christmas Santas, Christmas baby Jesuses, Christmas Magi and virtually everything you ever needed or did not need in order to celebrate a very merry Christmas.
Maybe I was Scrooging it because I visited on a sweltering summer day, on an afternoon when the thermometer sprinted toward triple digits and the heat sizzled off of Atkinson's Main Street pavement. Maybe it was because the sun had already sautéed my shirt to my back and because it felt odd to exit the scorcher, enter the air-conditioned cool of this singular store and be instantly surrounded by the twinkling lights of a winter wonderland.
And maybe — OK, definitely — I simply do not care about Christmas decorations all that much, as my wife, Sarah, can attest from the way that I groan each year when she asks me to bring said Christmas decorations up from storage.
So I did not fall in love with the life-size Santa or the Christmas ornaments targeted at fishermen, wine enthusiasts or polka dancers. I refused to give my heart to the Christmas elf wearing chaps or his friend, the Christmas elf dressed like a hillbilly. I remained cruelly indifferent to the Christmas bear statue walking on his hind legs and inexplicably armed with a rifle, and similarly unfeeling toward his buddy, the 5-foot-tall Christmas bear inexplicably dealing poker.
But the reindeer seemed something else entirely. It is a simple figurine, maybe 2 feet tall, not wearing a fisherman's hat or menacingly brandishing a firearm. Except this reindeer is covered in sparkly gems and thus glitters with each ray of light. It looks like something you would have found when Studio 54 decorated for the holidays. It looks gaudy and vaguely trippy and … wonderful, too.
I cannot explain it, exactly, but something cracked inside me when I laid eyes on the disco reindeer. It made this Scrooge understand the meaning of Something Special by Marilyn's Christmas.
"That is one blingy reindeer," I said, suddenly in a good mood.
"It sure is," said Marilyn, of Something Special by Marilyn fame, grinning back at me.
Marilyn Gokie and her daughter Janell Rossman have been taking "bah humbug" and turning it to Yuletide joy for nearly a quarter-century in this north-central Nebraska town of 1,245. At first they ran a small Christmas gift shop, and then they ran a bigger one, and then they ran the biggest Christmas store in the entire state.
Along the way they have broken many rules of business — rules that say you cannot open a novelty store in a tiny town and survive for 23 Christmases despite no real Internet presence.
Marilyn and Janell do not much care about these rules. They have kept buying ornaments and trees and reindeer and angels at big-city Christmas markets and then selling them here, in Atkinson. They have proven that they can grab a chunk of the $78 a year the National Retail Federation says the average American plans to spend on winter holiday decorations.
They have survived, and thrived, and laughed a whole lot.
We are on the store's second level, near an entire wall devoted to dog-related Christmas ornaments, when I mention that Something Special by Marilyn is both huge and packed with Christmas stuff.
"You think? Well, how would you like to dust this place?" Marilyn asks, cracking up both herself and Janell.
The fun began in 1996, back when this was an appliance and furniture store run by Janell and her husband. Marilyn was retiring after a career as a registered nurse, mostly at West Holt Memorial Hospital in town. She had plans, she says, plans to paint and plans to golf.
Then Janell mentioned to her mom that she should start a Christmas gift area in the back of the store. Marilyn had always loved Christmas, and decorating the family house with all manner of Christmas cheer.
"She said 'Let's start this store, and then you can paint and golf,' " Marilyn said of Janell's sales pitch. "Well, I will tell you, I haven't painted or golfed since."
At first, Something Special by Marilyn, as they called it, occupied only a small corner of the massive Main Street building. And then, when Marilyn was on her annual vacation, Janell expanded the store. The next year when Marilyn went on vacation, Janell expanded the store again.
"I was in Cabo," Marilyn said. "It was always a surprise to come home."
And then, after a couple of years, the whole family succumbed to the holiday madness. They built more rooms and added trees and angels and blingy reindeer. They cleaned out the building's second floor, added still more rooms and started assembling a gargantuan Christmas village filled with every type of tiny Christmas church and store and Victorian home known to man.
They built and installed a grand spiral staircase that they hung with Christmas lights year-round. They brought in a piano so someone could play Christmas tunes around the holidays. They went to Christmas markets and bought a poker-dealing Christmas bear.
Pretty soon, Something Special by Marilyn was the biggest, most wondrous Christmas store in the state. The annual open house started drawing hundreds of people. Occasionally entire busloads of residents from Fremont or Lincoln or Omaha show up here, hundreds of miles from home, to do their holiday shopping.
Omahan Darlene Denbeck has done her Christmas shopping there every year for the 22 years Something Special by Marilyn has existed. The former O'Neill resident has bought vases, ornaments, items from the tiny Christmas village and too many baby and wedding gifts to count. She continues to make the drive to Atkinson for the store's Christmas open house — she actually works a few hours at the check-in desk — and shows up several other times a year to shop with her daughter, Deb.
"When you go west, you gotta stop at Marilyn's," Darlene said. "I'm not running anybody down in Omaha, but she is so personable. When you come there, you are a friend, right now."
Marilyn and Janell constantly cultivate the store's down-home image. They keep a record of repeat customers, each on a 3-by-5 card noting what they bought and when. They greet customers by name whenever possible and ask after their children and grandchildren. When out-of-towners leave, they give them recommendations on where to eat lunch (the Flat Iron Grill) and where to get some ice cream (the R F Goeke Variety Store, which boasts a soda fountain.)
"We just try to treat people like we like to be treated," Janell said.
They care less about the Internet. They only recently got around to paying someone to redesign the Something Special by Marilyn website for the new millennium. They make few sales online. But, honestly, it doesn't appear to matter. If anything, that only accentuates the throwback feel of the place, and keeps people coming again and again from every corner of the state — and South Dakota, too.
When I was in town, on a sweltering summer Tuesday, several out-of-town couples showed up to peruse the Christmas items, as well as the large collection of Halloween items and other gifts.
Reminder: This was in late June, more than 120 shopping days from Dec. 25.
"If you are into the rodeo, people come in and want something western to put outside, and we have that," Janell said. "A lot of people look for wine items. We have those. Whatever your niche is, we have it. And the truth is, people love ornaments. They buy 'em year-round!"
After my tour, I asked Marilyn why she felt like the store bearing her name was working in Atkinson.
"I have no idea!" she yelled, and slapped her knee.
Then I asked her how she felt about Christmas after all these years. She leaned in close, as if to tell me a secret.
"I always had five Christmas trees in our house," she mock-whispered. "Now I have … one!"
And Marilyn cracked up again, laughing like a woman who understood the real meaning of Christmas — and the real meaning of that blingy reindeer, too.
matthew.hansen@owh.com, 402-444-1064